DEDICATION OF MEMORIAL STONE
for
JOHANNES WOLFERSBERGER
and
ANNA MARGARETHA ENSMINGER WOLFERSBERGER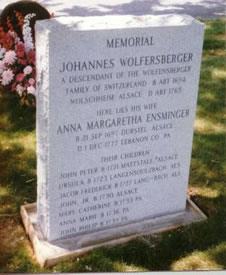 In the Lutheran Cemetery
Schaefferstown, Pennsylvania
Memorial Day 27 May 1996
The WOLFENSBERGER family had its beginning in the area of Bauma, Switzerland. The first family member of record was Knight BALDEBERT of Wolfsberg. Wolfsberg was a settlement on the mountain southeast of what is now Bauma, Switzerland. Knight BALDEBERT had his home in a Castle there. The Castle was known as the Wolfsberg Castle. The Castle has been long gone and only the site where the castle stood remains. Knight BALDEBERT evidently occupied this castle from 1233 to 1259. He was from Rapperswil and a subject of Griefenberg, a possession of the Counts of Rapperswil who held feudal tenure from St. Gallen. Knight BALDEBERT and probably others of his family endowed the Monastery at Ruti. The family Coat of Arms was held in this Monastery and many of the family now lay there buried. Knight BALDEBERT probably received his Knighthood from leading a group on a Crusade to the Holy Land. Our own Dr. Wolf WOLFENSBERGER of Syracuse University has much more on the political and social life in Switzerland and the surrounding areas in those days.
Hermann von WOLFENSBERG was slain in the Battle of Morgarten fighting the Swiss, while serving Dike LEOPOLD of Austria. Dorthea von WOLFENSBERG was married to Walter von SCHALCHEN in 1316, Noble von HENWIL leased his home to his sons von WOLFENSBERG from 1393 through 1394. Hof Wolfsberg was leased, from 1432 to 1438, by the Monastery Ruti to Konrad SENN. While Hans was in residence at Wolfsberg he served as a witness to a tithing case between Oswald KUNDIG of Wallenwil and Bozart von HORNEN in the District of Bauna. It appears that in 1539 hof Wolfsberg was freed from the Monastery Ruti, as from that time on there were no tax entries in the local tax books on that property. A few years later, the Old Zurich War broke out. Therefore it is understandable that the inhabitants in that area, through the development of the rights of citizenship, attempted to guard and protect the City of Zurich. Amoung those admissions to citizenship was Hans WOLFENSBERGER, the weaver. He was admitted on Wednesday, after Corpus Christi Day, 22 June 1446. At about this time the traces of the individual Rapperswil von Wolfsberg became more ans mor difficult to find, and in their place is seen more of the related name WOLFENSBERGER. A brief on these ancestors of Jahannes WOLFERSBERGER and their families is as follows:
1. Hans von WOLFSBERG, born about 1395 in Ober Wolfsberg, near Bauma, Switzerland. It is not known when he died. His wifes name is unknown. He had five sons. Hermann, Ulrich, Hans, Frederich and Konrad.
2. Ulrich, born about 1439 in Ober Wolfsberg, died after 1463 in Ettenhausen, Switzerland. His wife's name is unknown. He had only one son of record, that being a Mr. WOLFENSBERGER.
3. Mr. WOLFENSBERGER, born about 1466 in Ettenhausen, Switzerland. His wife's name is unknown. He had only one son of record, Mr. WOLFENSBERGER.
4. Mr. WOLFENSBERGER, born about 1510 in Ettenhausen, Switzerland. Date of death unknown. Name of wife unknown. Their children were; Ulrich, Jakob and Hans.
5. Jakob, born about 1552 in Ettenhausen, Switzerland, died after 1588 in Ettenhausen. His wife was Elsbeth KNECHT. Their children were; Hans, Erhart, George and Ulrich.
6. Erhart, born 12 February 1581 in Ettenhausen, Switzerland, died about 1622 in Ettenhausen. His wife was Margaretha LUTZ. Their children were; Barbara and Jakob. Erhart's second wife was Barbara TOBLER, no children. His third marriage was to Barbara MULLER and their children were; Hans, Anna and Margaretha.
7. Hans, born 24 december 1615 in Ettenhausen, Switzerland, died 15 February 1688 in Ettenhausen. His wife was Margret BARNWART. Their children were; Barbara, Ulrich, Hans, Erhart, Catherine, Jakob and Adeli.
8. Ulrich, born 14 November 1637 in Ettenhausen, Switzerland, died about 1678 in Ettenhausen. Wife was Anna KAGI. Their children were; Jakob, Elsbeth, Mathus, Anna, Hans and Johan Erhart.
9. Johan Erhart, born 18 November 1666 in Ettenhausen, Switzerland. He moved from Ettenhausen, Switzerland to Bas-Rhin in about 1688. He lived in Wolfsheim, which is a suburb of Strasbourg. Evidently it was while he was living in Wolfsheim that he met Ursula EMM. She agreed to marry Erhart if would convert to catholicism. Evidently that he did and they relocated to the village of Wolshhiem which is about 6 km southeast of Saverne and about 20 km northwest of Wolfsheim. Erhart died 12 July 1740 in Wolshheim. Ursula was born in Buchiberg, Switzerland. A record shows that they both died on the same date, but that is questionable. The present record shows that they had only one child, a son, Johannes. A record shows that there were several other WOLFERSBERGER families in that same area, but so far no connection to Erhart.
10. Johannes, born about 1694 in Wolshheim, Alsace. Johannes married Anna Margareth ENSMINGER in Mattstall which is about 30 km northeast of Wolshheim. Margaretha was born in Durstel on 21 September 1697. Durstel is about 20 km northwest of Wolshheim. Margaretha's parents were born in Waldhambach which is less than 5 km north of Durstel. Johannes and Margaretha were married in Mattstall on 27 January 1721. They probably started their family in Langensoulzbach which is about 2 km southwest of Mattstall. Their children born to Jahannes and Margaretha were John Peter, Ursula, Jakob Frederick, John Jr, Mary Catherine, Anna Maria and John Philip all as follows:
10.1 John Peter, born 16 October 1721 in Langensoulzbach, Alsace, died before 1802 in Heidelburg Township, Lebanon County, Pa. His first marriage was to Appolonia BRUNNER. Their children were Frederick, George Michael, Margaret (STORN) (HENNING), Anna (THOMAS), John George, John and Catherine.
10.2 Ursula, born 29 August 1724 in Langensoulzbach, died 8 September 1727, probably in Langensoulzbach.
10.3 Jakob Frederick, born 1 June 1727 in Langensoulzbach, died about 1764, buried in Heidelburg Township, Lebanon County, PA. Married Ann MEISER. Their children were Catherine Elizabeth (GEMBERLING), John and Anna Maria (PIFFER).
10.4 John Jr., born late 1729 or early 1730 as he was an infant on their voyage to America. Not certain where or the exact date he was born. Died 8 November 1788 in shenandoah, County, VA and was buried in Woodstock. Research has indicated that he was buried in a cemetery that is now covered by a church or the court house in Woodstock. John married Hannah SUMMER in 1751. Their children were Peter, John (changed name to SPARGER then SPARGUR), Benjamin, Hannah (GILLOCK), Philip, Mary (MILLER), Joseph, and Barbara (SKINNER).
10.4 Mary Catherine, born 3 August 1733 in Heidelburg Township, Lebanon County, PA. Married Jacob TUY in 1753. Moved to Cumberland County, PA. Their children were John P and Eva Elizabeth.
10.5 Anna Maria, born about 1736 in Heidelberg Township, Lebanon County, PA. Married Martin HEFFELFINGER in about 1756 and moved to Cumberland County, PA. Their children were Philip, Peter, John Frederick, Jacob, and Maria Barbra (SPANGLER).
10.6 John Philip, Sr.,born 14 February 1739 in Heidelburgh Township, Lebanon County, PA. Died 14 July 1824 in Campbellstown, PA and buried in the Salem Reformed Lutheran Church in Campbellstown. Married Susanna --- in about 1766 in Lebanon County, PA Susanna is also buried in the same cemetery with John Philip. Their children were John, John Philip, Frederick, Adam, Philip, Peter and John Jacob. John Philip, Sr had a second marriage to Charlotte SIHLE and to this marriage was born a son Reuben.
The WOLFENSBERGER FAMILY ASSOCIATION is so very proud to have provided this lasting marker for these two persons that are responsible for the most of us being here today. We are also proud to have their children recognized on this stone marker. A copy of this presentation along with a print out of the descendants of Johannes and Margaretha is being provided to the Schaefferstown Cemetery Corporation and the Lebanon County Historical Society so that others can see and appreciate the work that has been done in an effort to preserve our family history.